| | |
| --- | --- |
| London Coins | |
Why Buy Certified Coins?
These are coins which have been authenticated, attributed and graded by a third party grading company, such as CGS-UK. Such products come with a warranty and objectivity which we believe makes them a superior product for both collectors and investors alike.
Advantages of Certified Coins
Grade
As the state of preservation of a coin is one of the main factors determining it's value it would always be a wise approach to get an independent opinion of each coin's grade.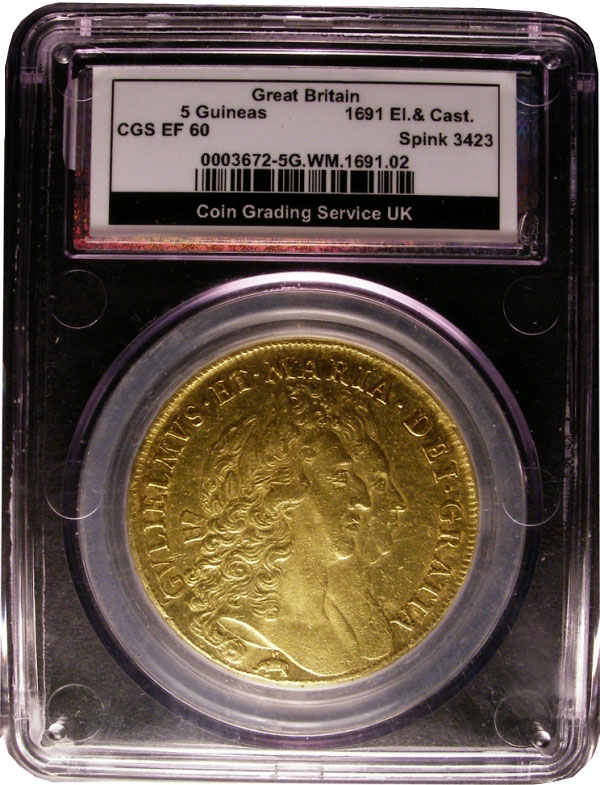 All certified coins have been graded by non-trading companies, who specialise solely in grading, some of these companies such as CGS-UK have an extensive bench-marking coin set, against which submitted coins are compared. Their staff spend their working lives grading. So not only has an independent opinion been given, but it is a professional, experienced and consistent expertise that determines the grading.
Guarantee of authenticity
The grading companies, whose coins we offer, pledge to pay the full market value of any coin encapsulated as genuine, should it be subsequently proven that the coin is a forged item.
Tradability
The grade and attribution remains with the coin as long as it remains in the holder. This enables the coin to be bought and sold, without further inspection.
To many buyers the warranty of a certified attached grade makes the coin a more attractive purchase than a raw (not graded and encapsulated) coin. It also allows the coin to be traded, unseen. This significantly benefits the collector and the investor, since they can fully trust the certification of the coin.
Security
The leading UK third party grading company, CGS UK, store an archival photographic image of each coin they certify. This provides you with a significant additional benefit, since the image can be made available to you via the web. Should the coin subsequently be lost or stolen this could assist in its recovery.
Ranking
Each CGS-UK graded coin is logged onto a population statistic database, so it is possible to see how high the grade of your own coins compares to other's collections. Best Extant coins (the ones with the highest grade) are most desirable to many collectors and hence may command higher prices when they are offered for sale.
Valuations
When offering coins for sale it is important to know the current market trends for the material being offered. With non-certified (raw) coins this would involve a re-grading by a dealer or auction house, before a valuation can be given. As certified coins, by definition, already have their grade attached, relevant published prices and trends for these certified coins - in various grades - can be used to assess your collection's value.
Storage
The capsules have been specially designed for long-term storage. They also are ideal for protecting coins against accidental damage and prevent any mis-handling.